Wonderful French Tapestries from Fleur de Lys Tapestries in Melbourne
Specialising in French woven tapestries, Fleur de Lys Tapestries is the largest importer of tapestries to Australia. From French tapestry cushions to woven wall hangings, we guarantee that you'll find exactly what you're looking for at Fleur de Lys Tapestries – or even something completely unexpected!
Tapestries conjure to mind medieval castles, marvellous churches and grandiose designs, but these lovely portable artworks aren't just for the grand homes of Europe. These works of art can look just at home in your house, teamed with everything from French-provincial to traditional country furnishings. They create a versatile platform for decorating, featuring a range of colours that tie-in with existing fixtures and cover bare walls with a pictorial story. They are perfect wall hangings for large walls and curved large stair-wells. Tapestries are a wonderful form of 'portable art' that you can roll up and move around the house when you feel like a change without the risk of breakages! Fleur de Lys Tapestries have made these works of art affordable and are providing an easy way of viewing these tapestries in your home without any obligation to buy. By viewing them in your home, before any purchase, you would ensure that the woven tapestry fabric itself fits in with your décor. Also the size of the tapestry has to fit in with the space and size of the wall. All this, before any purchase or obligation to buy! We are in the area and would love to show you these works of art for no obligation.
Fleur de Lys Tapestries is now offering specially designed hanging rods and woven tapestry cushions free with every tapestry sold. Please see more details below or call us on 0407 526 186 for an obligation free viewing.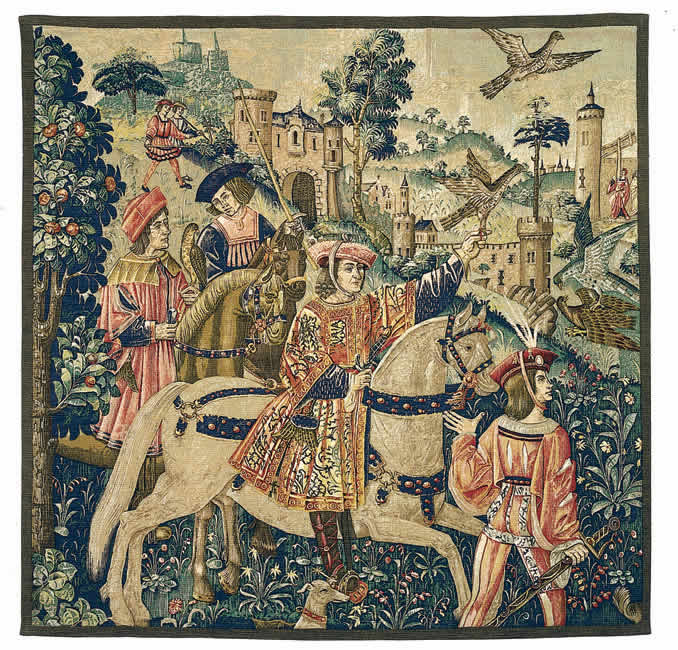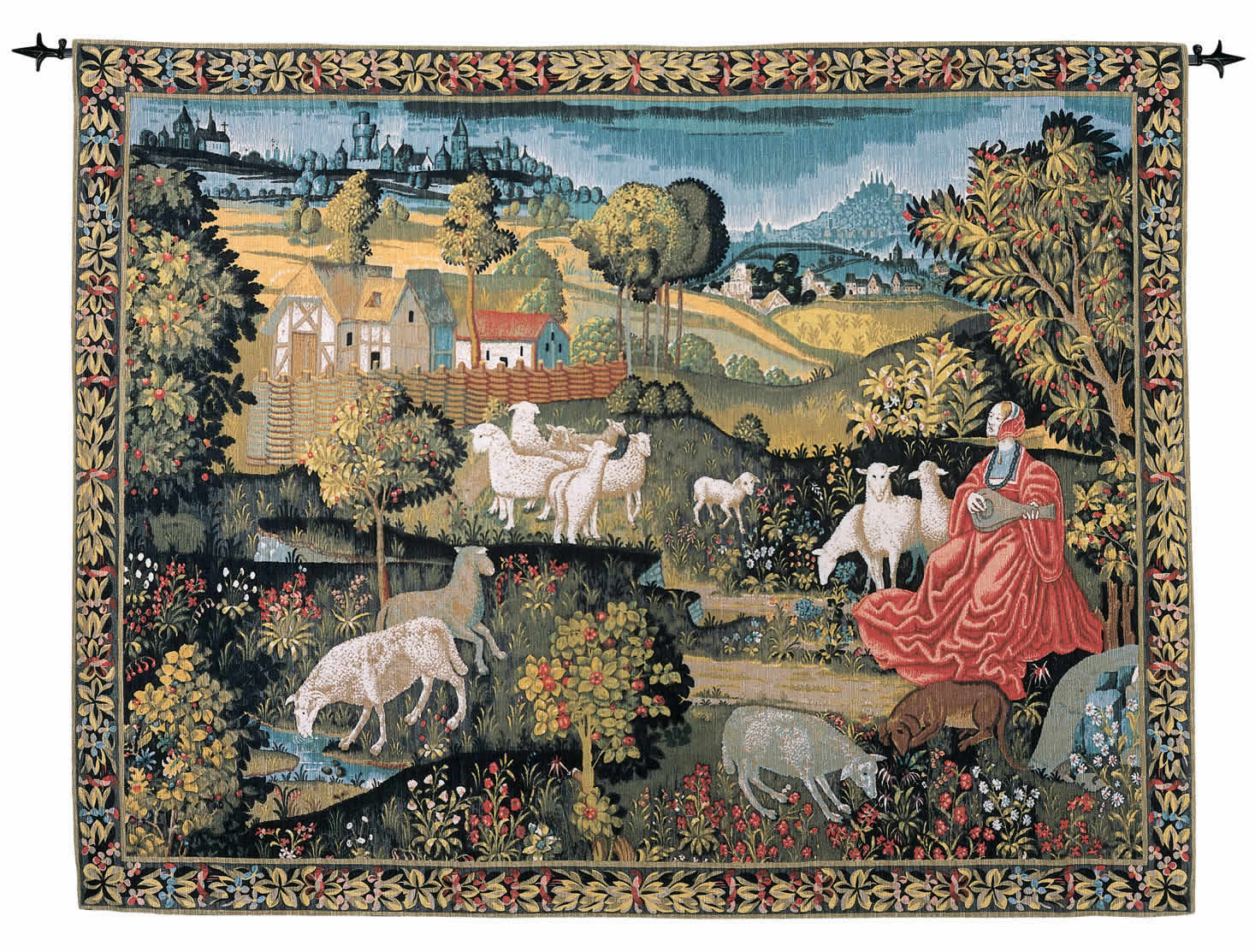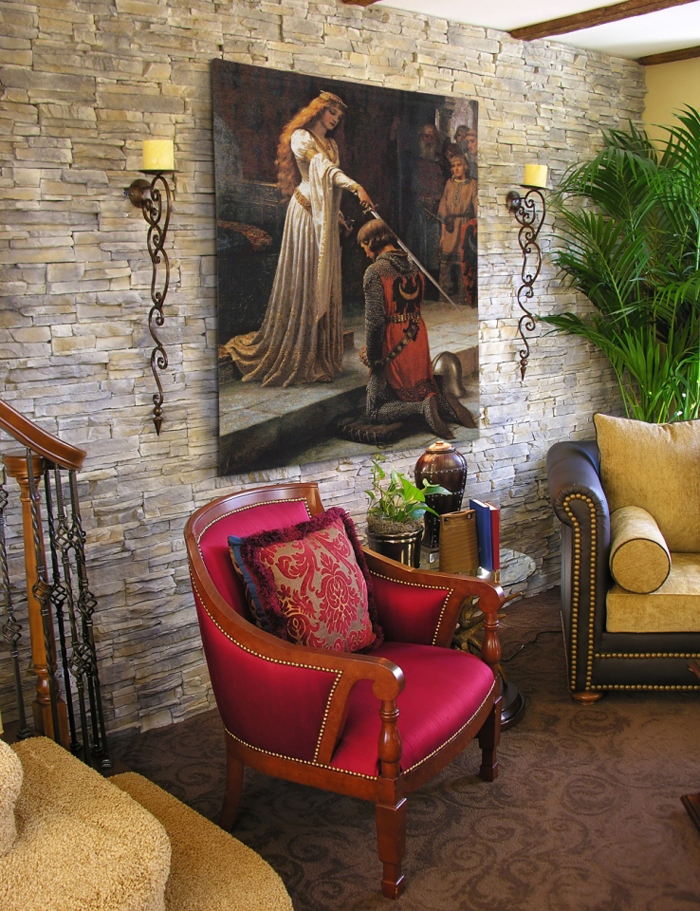 The Beauty of Tapestries
Fleur de Lys exquisite Tapestries capture the atmosphere and charm of the originals and are created by skilled craftsmen in small 'ateliers' working in many attractive textures. Choose from hundreds of designs, colours and sizes to add that luxurious touch to your décor.
These tapestries have been hand-picked as being the most beautiful and most artistic of all tapestries still being made by French, English and Flemish weavers. Tapestries are magnificent and are suitable for entrance halls, dining areas, lounge rooms and other areas of your home where an object d'art can be appreciated.
The tapestries are either silkscreen or woven. Silkscreen tapestries are reproductions of the original works hanging in places such as the Louvre, Chateaux in the Loire Valley and in private homes in Europe. These tapestries are high quality, with the emphasis on recreating the atmosphere and visual impact of the classic masterpieces.
Based on a weaving method invented in 1804, loom-woven tapestries are produced on Jacquard looms, involving the interweaving of warp and weft yarns of different colours to create the design. The setting up and control of the looms is a highly skilled and delicate operation requiring much attention to detail.
Both types are ideal investment and heirloom pieces, which are major talking points in any house or office. Due to the nature of tapestry fabric, nobility and scholars throughout history have collected and preserved these works of art. Now you can see these works of art in palaces and museums throughout the world. Or you can own a piece of history and culture to savour and preserve for yourself. Here are most of history's finest tapestries reproduced for you. Each tapestry comes in different sizes as detailed in the enlargements. These works of art are the finest made in the world. We hope you enjoy them as much as we do.